Meet Dr. Ted Johnson
The Road to Chiropractic
I've been interested in becoming a Chiropractor ever since I was 10 years old growing up in Powell River. My Mom would take me and my brothers for regular maintenance adjustments to keep us healthy and growing straight. We had a family friend who was a chiropractor and I even remember my father talking about changing careers to become a chiropractor… he never did. All these experiences pointed me towards Chiropractic.
I attended Simon Fraser University to complete my prerequisites for entry into Chiropractic College. While at SFU I played varsity football and enjoyed university life. Due to its reputation for academic excellence I chose the Canadian Memorial Chiropractic College (CMCC) in Toronto for my 4 years of specialized chiropractic training. In 1993 I graduated in the top 10 percent of my class.
Life has come full circle!  In 2010, after practicing 15 years in Surrey, I opened my practice in Powell River. Back to where the seeds of becoming a Chiropractor were started. I'm excited to bring a wellness style of chiropractic to my home town!

Restoring Function and Health to Patients
When I first started practice I was very "pain based." By this I mean that I focused on getting people comfortable as soon as possible. After a few years of this, two issues became apparent:
I wasn't correcting anything. Patients would keep returning with the same problems a month, a year, maybe several years later.
Patients who were under consistent preventative/maintenance care were reporting interesting positive effects: "I don't get heartburn anymore"; "My migraines are less frequent"; "I sleep better"; or "I have more energy". I began to realize that the adjustments were improving the spine, nerves and entire body's overall function.
Eventually, and with much research and education, I adopted a more holistic, wellness and corrective, style of practice. I still believe helping people feel better is important but it's only part of being a good chiropractor and serving people at a higher level.
A Shift in Focus
More recently Powell River Chiropractic has evolved even more towards helping people be healthier. Now we advise patients on lifestyle changes they can make. Eating Well, Moving Well and Thinking Well are absolutely essential for overall health and I can help with that.
Now, I have 3 goals for each of my patients. I want to help them:
Feel better as soon as possible.
Function better because that will prevent relapse and improve overall wellness.
Be Healthier because this is what's needed to experience the highest quality of life!
These goals can only be accomplished with a strong Chiropractor/Patient relationship. I build this relationship through educating each person on the benefits of following through on full correction of the spine, maintaining good spinal health with regular chiropractic adjustments and striving towards positive lifestyle habits.
Remember, good health is a journey not a destination!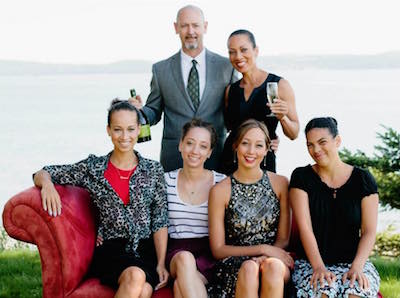 Outside the Practice
I am married to my hometown sweetheart Henrietta, who grew up in Lund. Together we raised our four daughters who are all grown now and living their own lives, leaving Henrietta and I as "empty nesters". We love spending time with them and do so every chance we get.
Together Henrietta and I enjoy home renovations and improvement. We love dreaming up new ways to improve our environment. We have applied our knowledge and enjoyment of this in the real estate market and take pride in providing quality rentals homes to our tenants.
One way that I enjoy giving back to the community is as a member of the Pacific Salmon Society and helping the Powell River Salmon Society at the Lang Creek Facility during spawning season. Our Salmon are such an important resource and since I enjoy fishing I think it's important to contribute.
I also enjoy going to the gym and feel it is important in managing my own wellness. I get chiropractic adjustments and massage regularly to stay healthy. As a family we eat healthily by minimizing dairy, sugars and high density carbohydrates such as bread and pasta. Whenever possible we eat local, organic and whole foods. Emotionally and spiritually Henrietta and I believe it is important to be continually striving to improve. Eat Well, Move Well, Think Well!!
I believe if you want people to follow your recommendations for a healthy balanced lifestyle you have to lead by example or "walk the talk."
---
Chiropractor Powell River | (604) 485-7907