About Powell River Chiropractic
Dr. Ted Johnson has been practicing for 30 years and has invested hundreds of hours in ongoing education to upgrade and refine the care provided at Powell River Chiropractic. So no matter what your health concerns and goals are, you're in good hands with Dr. Ted!

Our Philosophy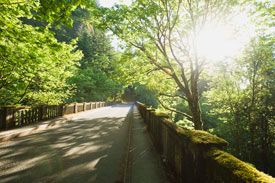 Our approach is based on the three pillars of care here at Powell River Chiropractic:
What can be done to help you feel better
What needs to be done to help you function better
What needs to be done to get you healthier overall
With these three pillars there are three levels of care:
1. Relief Care
Many people seek care in our practice and have one goal: relief. So that's where we start! During this initial stage of intensive care, we have several obligations:
Uncover the underlying cause of the health problem
Suggest a care plan to produce the fastest results possible
Offer ways patients can participate in their recovery
Explain the value of post-symptomatic wellness care
2. Wellness Care
Here at Powell River Chiropractic, we're committed to teaching our patients that true health is a journey, not a destination. Through educational opportunities (like this website), we hope to communicate the value of chiropractic care for correcting your spine's overall function and alignment. Then, when you have gained as much correction as possible, maintaining that higher level of spinal health over a lifetime.
Our desire is to see our practice members abandon the prevailing sickness care model of health (waiting for symptoms and then taking action), in favor of the emerging wellness and prevention model.
3. Lifestyle Elevation
Chiropractic care is very important but it's not the only component of true health. In order to progress towards that true health we must "Eat Well, Move Well and Think Well". At Powell River Chiropractic we will offer suggestions on how you can alter your diet, start or improve your exercise habits and help you to increase positive thoughts and emotions.
You're the Boss
Relief care, wellness care or health optimization… it's your choice!!
Regardless of your health goals, please understand that we see ourselves as servants. You're the boss! It's your body, your health and your future. Our job is to offer you the finest chiropractic care, make appropriate recommendations and work together to achieve your goals.
Call our office today and make an appointment to discuss your health goals.
We've Got Your Back!
---
About Powell River Chiropractic | (604) 485-7907